On June 8, 2023, Linpico was awarded the management of the AFD 2023 framework agreement – Lot n° 01 – Capacity building in financial governance for a minimum duration of 24 months which can be renewed up to twice 12 months. This international framework agreement provides for a maximum amount of €35,000,000.00 (thirty-five million euros) for the implementation of subsequent contracts (more than €40,000) and purchase orders (less than €40,000 ) for study services and technical assistance in public finance management and state reform.
This framework agreement concerns studies and technical assistance in the field of financial governance. The objective of this framework agreement is to be able to respond more reactively to the needs of AFD's partners/beneficiaries. The services will support the work of AFD, which finances the economic and social development of nearly 80 countries, as well as Overseas Communities.
Financial governance projects concern the following areas: public expenditure review, preparation of the budget framework, planning and programming of investment expenditure, budgeting, budget management and reporting, mobilization of domestic revenue, public procurement, payroll management, management treasury, debt management, management and keeping of public accounts, external and internal audit and internal control, statistics.
Beyond these main topics, the projects will also give importance to cross-cutting themes such as gender or environmental protection, which are found in almost all areas of intervention: green taxation, analysis of public expenditure with regard to the objectives of combating climate change and reducing gender inequalities; preparation of a green budget. Several of our experts have experience in these areas, in particular through the implementation of the PEFA climate module and the PEFA secretariat's gender-sensitive public finance management assessment module. Subjects in which Linpico also specializes, having recently carried out several PEFA assessments of this type, in particular the Dominican Republic, CAR, Niger, Kenya, etc.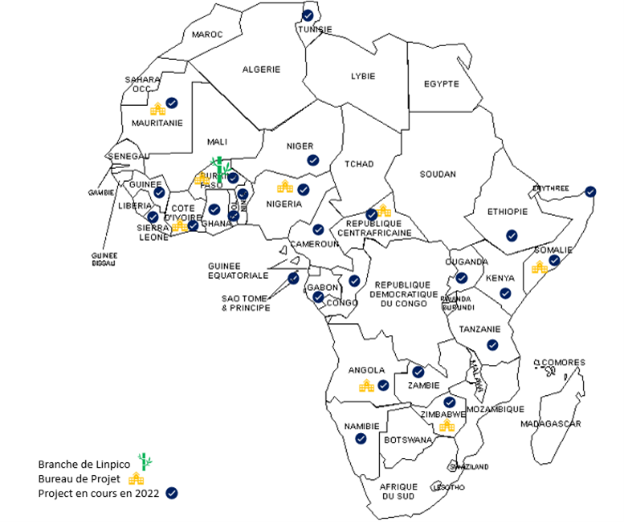 Missions may take place in all countries where AFD is present, with a focus on French-speaking sub-Saharan Africa. Linpico is very present in this region, since we set up an office there in 2018, in Ouagadougou (Burkina Faso), ensuring our links with the communities of experts in the region, and knowledge of local contexts.
Thus Linpico's experience and regional presence will be an important added value for our consortium to win and manage these future contracts and offer new collaboration opportunities to our experts and partners.